Truncated Icosahedron L1 (The Three-Frequency Icosahedron or 3V Geodesic Sphere)
The collection of equilateral triangle faces, these sculptures consist of 270 struts along with 90 connectors (copper tubes of 0.375 inches overall diameter) and can be shaped in a 24 inch overall diameter (models can be supplied with other dimensions on request). Their universally beautiful patterning and shape is a testament to the complete and sacred geometry of our world and universe. It allows the viewer to understand true harmony and coherence of form through the observation and enjoyment of a special and unique piece of art.
---
About Sacred Geometry
- Model Beauty:

As far back as the time of Plato, these amazing geodesic forms offered special significance to both mathematicians and philosophers alike. They were considered as symbolic representations for the elements of earth, air, water and fire. Beautiful and fascinating models, the sacred geometry within them allows for the viewer to experience a sense of true wonder and appreciation. The idea of five platonic shapes, portrayed in a 3-dimensional perspective was of course developed by Leonardo da Vinci, and means that objects of this nature could be shaded realistically on a 2-dimensional surface, like real objects rather than geometrical diagrams.

- About Sacred Geometry

Our universe is created with perfect structures, all in harmony. From the biggest man made building to the most microscopic pattern on a flower's petal. As such, geodesic domes are completely unadulterated constructions, with a natural element to their creation. They are created around the concept of sacred geometry, and are appreciated as completely flawless in design.

- But what exactly is Sacred Geometry?

Sacred geometry is wonderful and completely fascinating. When one thinks of 'sacred geometry' they think of the type of mathematical approach applied in the planning and construction of religious structures and places, such as churches, temples and mosques. However it is rather a term used much more interestingly. It allows us to understand the close and special relationship between organic and logarithmic curves. It encompasses the ideals of Pythagorean and neo-Platonic geometry in the best sense.

When a visitor to a temple or church is confronted with beautiful designs inspired by sacred geometry, they are usually affected on a higher level, overwhelmed with the intricate and utterly perfect nature of how these shapes connect and complement each other in the most symbiotic of ways.

The beauty in these designs is undeniable, whether it be in a temple, church or synagogue – the strong fragility of these creations allow a different perspective for the observer, it affects and defines the architecture of a space so dramatically, that it expands the mind of the viewer and offers an infectious positivity to spread through all those who experience the structure. Geodesics has strong links to sacred geometry; and is also an obviously visual experience and language, so we will allow the videos below to offer you an overview of the ideas behind it.

- Leonardo da Vinci's Polyhedra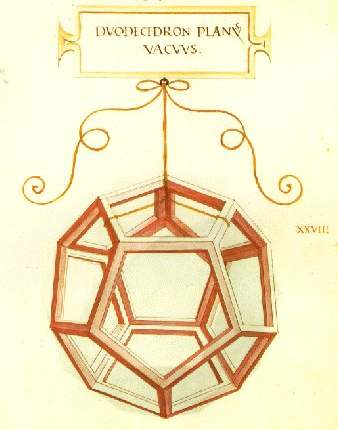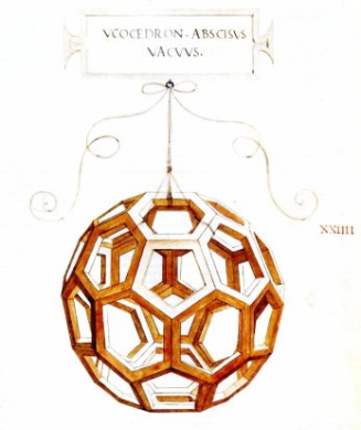 Da Vinci's illustrations from their copy of Pacioli's De Divina Proportione published by Silvana Editoriale, Milan, Italy, 1982. This unique copy of Pacioli's Divina is held by the Biblioteca Ambrosiana in Milan, Italy.

Students and appreciators of the polyhedra will already understand that the great Leonardo da Vinci, that famous renaissance man of great versatility and eclectic talents, was an artist who closely studied and explored the concept of the geodesic sphere. In his many detailed and closely studied illustrations, showcased in his 1509 text The Divine Proportion, we can observe stunningly intricate hand drawings of the icosahedron, showing the beauty and perfection of the geometry in creation. These drawings were exceptional when they were created, and still are today – offering us a view of the 'solid edges', enabling the viewer to see the edges more easily when drawn in da Vinci's 3 dimensional hand. Being able to understand and clearly see the true, perfect geometry of the shapes through these careful and detailed drawings, is simply sublime.

Known as the Platonic solids, never before had the icosidodecahedron or the rhombicuboctahedron been presented as such before Leonardo's illustrations. The detail and exactness of the drawings is a testament to da Vinci's true appreciation of and wonder for these specimens of perfect geometry. During this time, contemporaries of Leonardo; known as the Plato Four, concerned themselves with the study and appreciation of Plato, funded by de Medici – they commentated on his philosophy and generally explored and studied his works. However, unlike these neoPlatonic thinkers, (the de Medicis and others), Leonardo preferred to explore and actually create examples of geometric and artistic expression and criticised those who simply considered or contemplated upon it and his drawings of the polyhedra, in all their intricate beauty, are the result. Leonardo felt that the science, mathematics and artistry of the platonic solids, deserved more focused attention and creative devotion. His countless drawings, texts and papers are filled with scribbles and doodles of various forms of polyhedra, showing that they were constantly a consideration and preoccupation of his.

Preferring instead to experience and create his understanding of the polyhedra, Leonardo avoided the study of the literature and poetics surrounding the topic – he felt in his own opinion that he was uninformed as regards the literature of philosophy, science and maths. Although he did make a point of pursuing some self-education in the areas of literature and mathematics, he expressed that he felt it more appropriate for him to be able to manage his subject matter in a physical and experiential manner in order for him to be able to truly understand and appreciate it completely.

- The Platonic Solids

A countless number of great thinkers, mathematicians, artists and philosophers alike have pondered upon, explored, considered and studied these 'cosmic figures' for thousands of years. The credit can be given to the Ancient Greeks, who showed an understanding of the Platonic Solids, including the cube, dodecahedron, the icosahedron, the octahedron and the tetrahedron.





Due to Plato's consideration and exploration of these regular solid polyhedra, his name became synonymous with their study. Each of these polyhedra have equivalent faces, giving a true and perfect example of the sacred geometry at work within each one.

Of course, the philosophy of Plato was such that he attributed each shape with an element from creation. The cube was associated with the earth, the tetrahedron represented fire, the icosahedron was illustrative of the element of water, and the dodecahedron was the symbol for the heavens and the stars above. These polyhedra are appreciated from a mathematical, artistic and sacred point of view equally and their aspects and characteristics provide a never ending source of study for artists, mathematicians and scientists.

- What will sacred geometry do for me?

Let's get real here; there are so many charlatans, like some of the TV evangelists who have been unmasked as frauds and liars in order to manipulate people's emotions in order to take advantage of them. So it's always wise to be wary of the notion that 'spirituality sells'. Yes, it does. But it has to sell for the right reasons. Those who profiteer and manipulate the fragility of others use this sacred and powerful aspect to influence other people, for all the wrong reasons. Which is why it is important to understand that sacred geometry is not about 'finding a cure' for something ailing you or troubling you, but rather it is a special and unique type of design or creation that will benefit you and inspire you in a different way.

The geometric shapes expressed and explored within the geodesic dome, come from Plato's octahedron and icosahedron. Like two inverted pyramids joined at the base, the octahedron represents the perfection of spiritual matter. This shape is considered to be the 'flower of life'. If this is so, then the icosahedron represents the 'seed' of life. These triangles that Plato explored and explained so wonderfully can be said to illustrate our planet itself. Plato himself said that 20 triangles, and icosahedron, form the shape of the Earth. These shapes that cover our planet affect the energy of everything, from our bodies to the places that we live. The language of light itself is created by these structures. This is how we receive information in its purest form as well as how we fully develop and achieve our potential.

- Buckminster Domes

The american Richard Buckminster Fuller (July 12, 1895 – July 1, 1983), is known as the first architect of modern-day dome dwelling. In 1917, he began a career as an architect for the US Army but soon came to realise that he wanted to use his skills to create a portfolio of work throughout his life centred on the notion that you could do more with less. He also developed and popularized the widely known geodesic dome.




Geodesic domes rules and frequency.
The concept behind the dome, by Buckminster Fuller

Buckminster Fuller understood the strength of the triangle over the square structure and wanted to build stronger buildings but with an economy of materials. Hence, the school of thought called 'synergetics' was born, where you use geometric methods present in nature to study, create and consider both the physical, and the metaphysical. This type of approach eventually led him in 1947 to design the geodesic dome.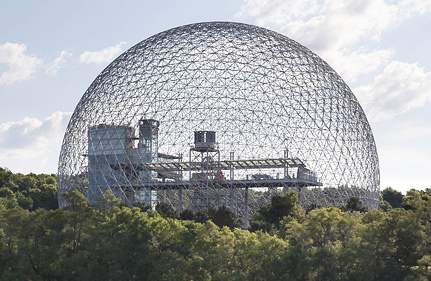 The Montreal (Quebec, Canada) Biosphère by Buckminster Fuller, 1967.

Fuller discovered that if a spherical structure was created from triangles, it would have unparalleled strength. This principle directed his studies toward creating a new architectural design based on triangles, the geodesic dome. The benefits of this design were many, including savings on energy and enhanced practicality in living space and maximising volume. Fuller was commended with the Architect's Gold Medal in 1970 and there are now more than 300,000 of these geodesic domes in use internationally. Even the school I attended as a child is a geodesic dome!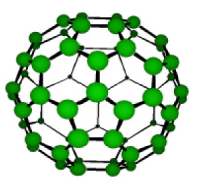 Carbon molecules known as fullerenes were named by scientists for their structural and mathematical resemblance to geodesic spheres.
NOTE: